Our guarantees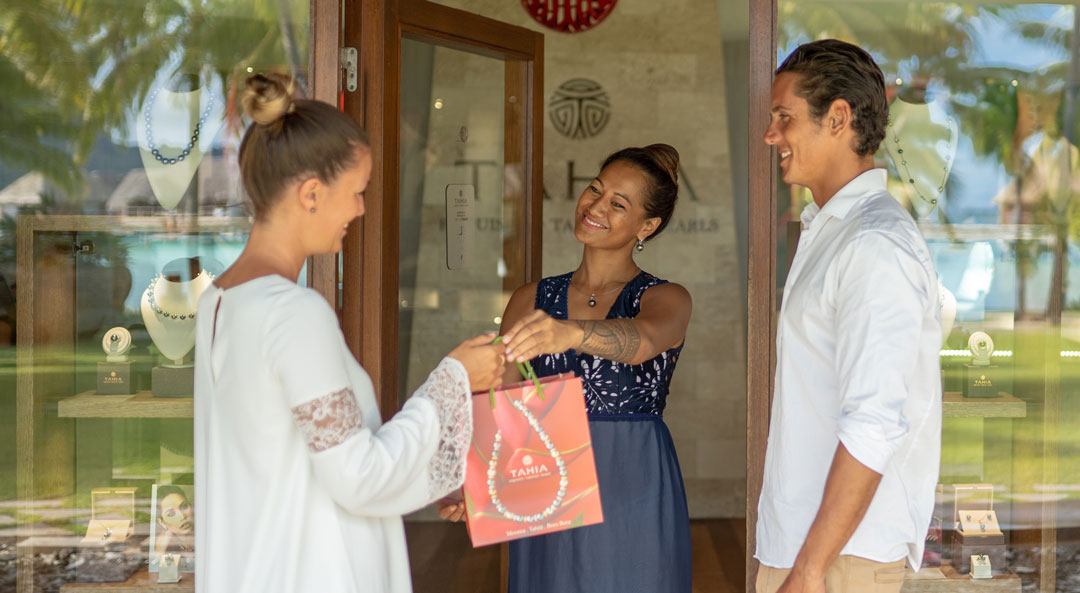 Since 1993, Tahia Exquisite Tahitian Pearls has been committed to providing our customers with stunning, high-quality jewellery along with immaculate customer service. Your satisfaction is of the utmost importance to us and our team strives to provide you with the best experience possible. You can count on us.
Here's what you can expect when shopping with us:
One-of-a-kind designs by Tahia
Each piece of jewellery carried in Tahia Exquisite Tahitian Pearls stores is a unique, hand-crafted creation by Tahia, the designer and owner. The pearls are carefully selected and matched to the design to create a one-of-a-kind piece for you to cherish forever.
Gemological Institute of America certified staff 
Our staff comprises of welcoming, friendly and highly-trained experts in the art of pearl jewellery. Each team member is certified by the Gemological Institute of America. They are also international and able to assist you in a variety of languages to help you find the perfect piece for you.
Certificate of Authenticity and Origin
All purchases come with a certification that the Tahitian Black Pearls included on your invoice are sourced from the atolls of French Polynesia and that their color is entirely natural. Integrity is one of our core values and we are committed to the responsible sourcing of our pearls, metals and other gems. In addition, we certify that our pearls have at least 0.8 mm of nacre around their nucleus (as per Regulation nº1265 of 31/07/2017 and Law of the Country nº2017-16 of 18/07/2017).
Worldwide shipping
If you love pearls but are too busy to pop into our stores anytime soon, no worries! We offer reliable worldwide shipping so you can get a taste of paradise sent straight to your doorstep. Simply browse the many collections available on our website and contact our staff who will assist you in crafting your very own custom Tahitian pearl jewellery.
For online orders, please refer to the Online Purchases Terms & Conditions.
Refund, Upgrade or Exchange
At Tahia Exquisite Tahitian Pearls, we respect and value each of our customers. Since your trust is important to us, we want you to be completely happy with your purchase. If you wish to return an item for any reason, we will gladly offer you a full refund or exchange at any time during the 30 days following your purchase, provided that the item is in the same condition as when purchased (unmodified, in its original packaging).
If you contact us about a manufacturing issue within a year following the purchase, you will benefit from complimentary repair at our expense. Simply contact our after-sales service at [email protected] or by calling our toll-free number 1-888-328-8266. We are always at your service.
Duty free purchases
We pride ourselves on helping our international customers wherever we can. For this reason, most of our sales can be carried out under a system of tax refund so your purchase benefits from an exemption on value-added tax (VAT) when leaving French Polynesia. Simply keep the form we give you, have it stamped by the local Customs Service upon your departure and have a safe flight home. It's as easy as that.
After-sale customer service across the US, Asia and Europe 
Leaving French Polynesia but still want to benefit from great service? If you are based in the United States, Asia or Europe, you have access to our after-sales service simply by calling our toll-free number 1-888-328-8266. Our international staff is available at your fingertips and will be happy to assist you with any queries you may have. We stand behind our products and offer free, lifetime support to our customers, no matter where you are in the world.
Lifetime Upgrade
Upon purchasing a jewel of a minimum value of $2000 USD, you will gain access to our lifetime upgrade program which allows you to exchange your jewellery for a brand-new jewel of a minimum value of 25% more by only paying the difference between the two jewels. There is no time limit on this offer and the only requirement is that the original jewel be in good condition.